News
BC30™ is named "Most Innovative Ingredient" in FI Food Innovation Awards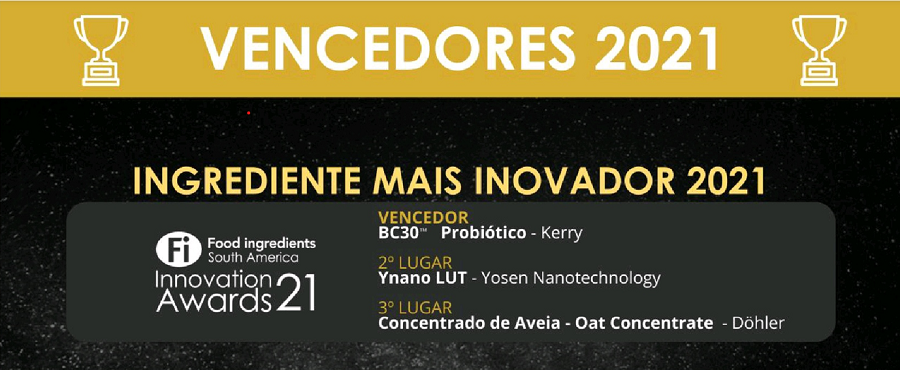 BC30TM, Kerry's spore-forming probiotic ingredient, was named the "Most Innovative Ingredient" at the Food Ingredients (Fi) Innovation Awards 2021, at its August 9, 2021 ceremony. The award is the top honor for the food industry in South America.
The Latin American market for probiotic foods and beverages is expanding, driven by  consumers' increasing awareness of the role that probiotics can play in maintaining health. Research conducted by Kerry in 2021 indicates that 70% of consumers in Latin America are aware of probiotics, and nearly half have used them in the past 6 months, creating opportunities for manufacturers to formulate foods and beverages to meet growing demand. The award comes on the heels of the recent approval of claims for BC30 in Brazil, based on the strength of the research supporting BC30's benefits.
Cited by the judges as a research-supported spore-former with compelling market examples, one juror noted that "the technology supporting BC30 [is] straightforward and easy to incorporate into everyday foods and beverages to help Latin American consumers achieve their wellness goals."
Watch the video to learn more about BC30.
The ceremony kicked off Food Ingredients South America (FiSA)'s 2021 meeting, the biggest food industry gathering for Latin America. Organized by Food Innovation South America, the region's largest industry group, the competition brings together ingredient manufacturers in the food, beverage, and supplement space. Participating in the technical committee that selected the winners were industry professionals, groups, and companies, including Coca-Cola, GSK Consumer Healthcare, Inovbev, Visanco, NutriConnection, Food Design Group, Regularium, Equilibrium, Science and Technology, and VRG Foods.
According to Leon Reis, Kerry Business Development  Manager in Latin America, the food and beverage industries are adapting to consumers who are looking for cleaner labels and foods with health benefits, a trend that had been building in the region even before the pandemic.
Says Reis, "BC30 generates added value for products by being a differentiator in the food and beverage industry. BC30 stands as a patented probiotic, supported by scientific research, that can provide the health benefits that consumers are looking for. BC30 provides superior stability without affecting the taste and texture of foods, enabling streamlined innovation in the manufacturing of functional foods and beverages with probiotic benefits."