BC30TM is a natural, probiotic ingredient that can help provide the beneficial bacteria that may safely
support your digestive health and immune system.
Probiotic Fortified Foods & Beverages Meet Demand
BC30TM (Bacillus coagulans GBI-30, 6086) is a natural probiotic ingredient used by product manufacturers to create functional foods and beverages. Committed to helping create a safe and efficacious probiotic for everyone, BC30 can be found in more than 1,000 leading food, beverage and companion animal products around the world.
Research Supported
Backed by over 25 published papers, research shows BC30 can help support digestive health, immune health, and may support protein absorption.
Easy to Formulate 
BC30 is a spore-forming probiotic that remains viable through most manufacturing processes and the low pH of the stomach, making it a better fit for the fortification of everyday foods and beverages.
Award-Winning Brand
A patented, award-winning branded probiotic, BC30 is trusted by consumers worldwide, because it provides the safe and efficacious health benefits people want most.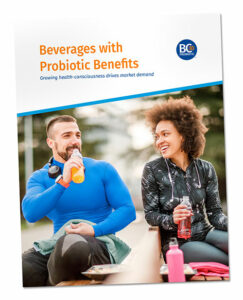 Get the latest probiotic market insights.
Looking to create a probiotic food or beverage?