Infographic
Digestive Benefits at Every Meal
85% of global consumers want products that deliver digestive health benefits in their everyday foods and beverages.1 And more than two-thirds of consumers globally say they find products that have been fortified with added nutrients appealing.2
The opportunity? Healthy mealtimes create openings for foods and beverages fortified with probiotics at breakfast, lunch, and dinner.
Download our infographic to learn more about how these digestive health trends can help you meet customer demand at every meal.
Learn how the traditional pattern of eating breakfast, lunch and dinner may be the key to creating successful probiotic-fortified products. Download the white paper, Rising to the Occasion: Demand for Probiotics at Every Meal.
White Paper
This white paper examines the eating patterns of consumers globally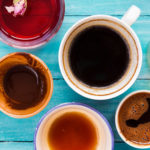 Expert Insight
With a long history of being the beverages of choice around the world, both coffee and...
Expert Insight
With a naturally-protective outer layer, GanedenBC30 can survive most processing conditions and the path to the gut allowing it to provide the benefits your consumers want.